A website significantly contributes to one's business success and website role in digital marketing is unquestionable. All your digital marketing efforts connect to your website in one way or other. Even, you cannot start and continue an effective digital marketing strategy without a top-notch website. 
A website is an essential platform for your business growth. You enlist all your services, profile, offers, and other information on the web to convey them to customers. However, the online competition has grown remarkably. Here, the question arises how to increase traffic on your website? To drive more website traffic, digital marketing is helpful.
Digital Marketing: Exactly What It Is?
Digital Marketing refers to the online marketing of your business, brand, and services on all digital platforms by forming some strategies. Almost all companies rely on digital marketing to increase their website traffic and to connect with customers. however, digital marketing plays a vital role in accelerating your business sales through various channels such as SEO, mobile apps, email, content, social media, and more.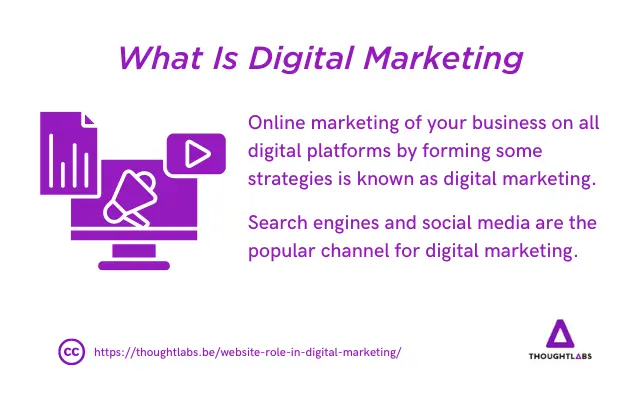 Website Role In Digital Marketing
All the digital marketing activities and strategies are formed to grow traffic, increase conversion, and generate more leads for business. Without a website, there is no benefit of digital marketing.
Similarly, you cannot boost up your website ranking and performance without well-planned digital marketing efforts. Hence, a quality, innovative and functional website has a vital role in the success of digital marketing. Let's discuss the website role in digital marketing in details.
SEO Practices
Search engine optimization is considered a base of the digital marketing plan. You cannot gain desirable outcomes from your digital marketing practices if you are not proficient in SEO. With good SEO, you can reach a large number of potential customers. However, the base of best SEO knowledge and practice starts from a website. Hence, to get more business out of search engine optimization, you need a corporate website.
Through SEO, you can manage digital marketing and promotion excellently to improve brand awareness and enhance user experience. However, search engine optimization is a more permanent source of traffic as compared to social media and other digital channels. It has the ability to take website success to the next level by improving search rankings.
Websites and Social Media Marketing
If you think that you can boost up your business by just relying on social media marketing without a website, you are wrong. A website signifies your business's online position. Hence, a strong digital marketing strategy is incomplete without a website and it is an essential component of the overall digital marketing plan. 
Social Media Marketing is the second most popular digital channel to get traffic after SEO. You can easily drive traffic to website for many purposes like to promote products or services and to get more leads. Mostly, businesses go to social media marketing to cope with the low business sales. You cannot underestimate the power of a functional and advanced website to get the desirable outcomes of social media marketing campaigns.
Pay Per Click and Website
PPC ( pay per click) is another crucial element of digital marketing strategy which new and old businesses use to get instant results from search engines. This is effective online marketing in which each clicks ad is a  paid one. The advertiser pays for the ad every time someone clicked it. Again, you cannot run PPC campaigns without having a website and without it PPC marketing has no outcomes.
PPC leads to more brand exposure thus allowing businesses to connect with more customers. For each of your keywords, you can run a separate PPC campaign to increase sales and revenues. 
Content Marketing and Website
Content marketing is one of the finest ways to target customers from top of the funnel to bottom of funnel. If we say that content marketing and digital marketing are inseparable, then it would not be wrong. Without content marketing, online marketing will not bring desirable outcomes and vice versa. In order to have aggressive and efficient content marketing, you certainly need a website.
This is a strategic approach that involves engaging content to retain or attract targeted customers. The use of targeted keywords, description, and details compel them to visit your site to make advantageous interaction with your company.
Email Marketing and Website
Email marketing is a cornerstone of your overall digital marketing plan. in the modern era, where people highly rely on email marketing for professional communication. It is helpful in highly customized campaigns because it allows you to target any segment of your audience and convert them into buyers.
When you send emails while operating within your digital marketing plan, the receivers will want to know more information about your company, services. For this, you must have a user-friendly and premium website so that the email can redirect your customers to it. Ultimately, your website will make effective your email marketing and bring fruitful results to business. 
Branding and Website
Without a website, your brand cannot gain the required recognition and appreciation in the competitive marketplace. To properly run your digital marketing campaigns, you need to rely on high-end branding strategies in order to tell customers about your brand and services. 
However, you can enhance your brand image well through engaging websites. The web elements such as logo, content, graphics, and others broadcast your brand message well thus convert the audience into customers.
Bottom Line
If you do not have a website of your brand or company, reach out Thoughtlabs to get responsive website. Once you have a well-designed, functional and innovative website, digital marketing will contribute significantly to your business growth and success!